JBuddy Messenger


Instant Messaging Client for Business
Overview
JBuddy Messenger is full-featured Business Instant Messaging Client built to meet the demands of busy business professionals while easing deployment and support requirements of busy IT Departments.

The case for a supported Business Instant Messaging Client
For years, employees have improved collaboration, reduced phone tag and e-mail inbox clutter by leveraging instant messaging & presence using a variety of public instant messaging services and a smorgasbord of instant messaging clients without IT Department approval or support.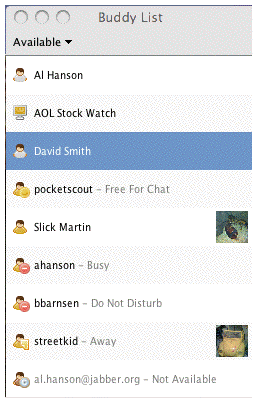 Due to viral-like adoption of instant messaging within the organization, the proliferation of unsanctioned instant messaging clients is adding to the strain of busy IT Departments, driving up IT costs. Further, unbeknownst to users, compromised and exploited instant messaging clients are delivering Spyware, Adware and viruses to employee computers and business networks, putting businesses at significant risk.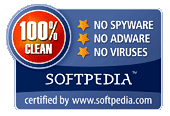 Enterprise-wide Benefits of JBuddy Messenger

Business Deployment - Any Platform, Simple Install

Whether your employees use Microsoft Windows, Apple OS X, Linux (including RHEL), Sun Solaris, or a mix, JBuddy Messenger is available and supported for all your desktop and laptop operating systems. Self-contained application executables greatly simplify enterprise-wide deployment.

Business Savings - Reduced Support Costs

IT Departments can reduce the strain of supporting many different instant messaging clients by choosing to deploy JBuddy Messenger across the organization. With a consistent and intuitive user interface, JBuddy Messenger requires little support and training.

Business Safe - Peace of Mind

JBuddy Messenger was inspected and tested by an independent third party and found to be 100% clean with NO SPYWARE, NO ADWARE and NO VIRUSES. What's more, our products easily identified as authentic and protected from tampering using Code Signing certificate technology from Thawte, a Verisign company, so you know our products are enterprise safe, giving you peace of mind.

Business Instant Messaging Support - Enterprise Proven
New Business Features at a Glance
Purchase a license and enable business features: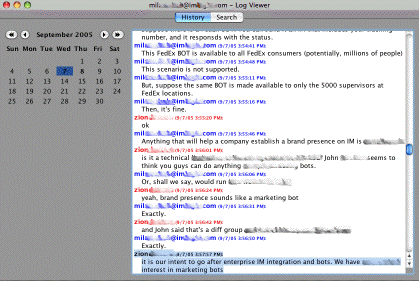 JBuddy Messenger v3.3 Business Chat Log Search - Screen Shots
Learn More...